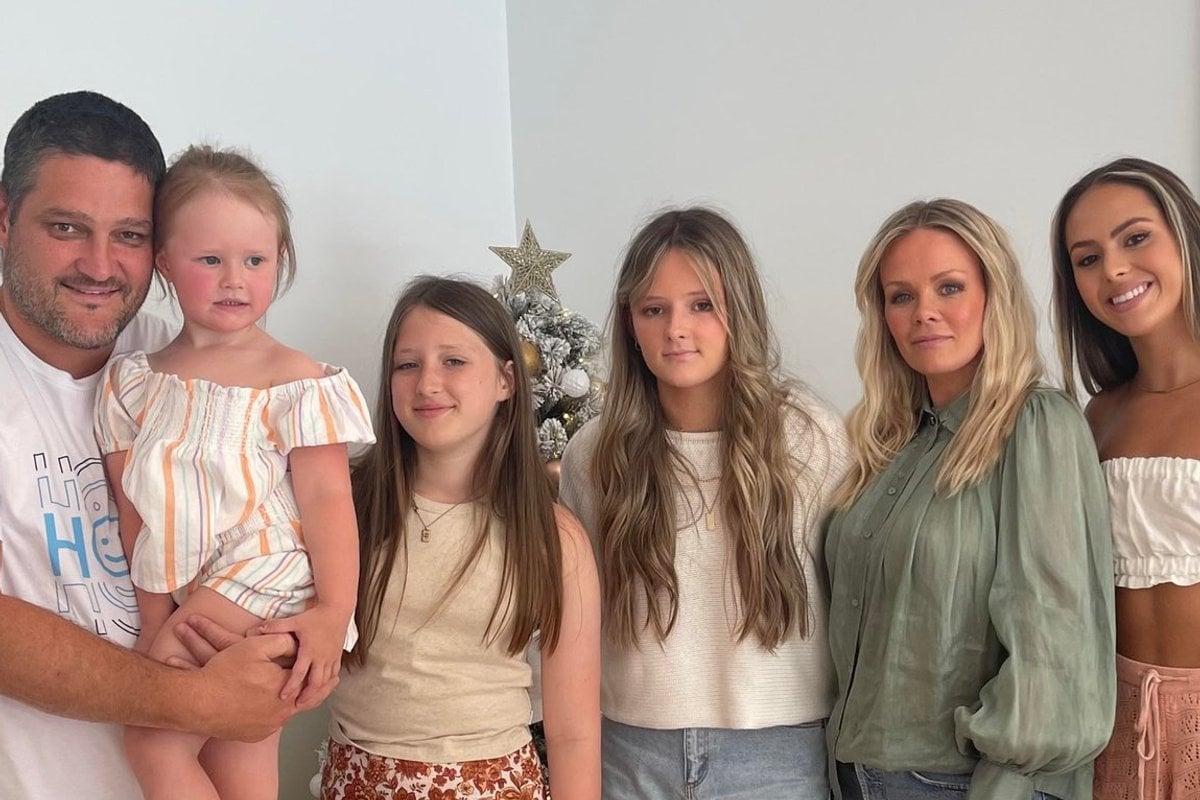 Mamamia's Five Golden Rules series takes a pervy look into the lives of Australian families. From parents of toddlers to parents of teenagers, the series asks parents to share their golden parenting rules, including the rules for their kids, and rules to just get through each day.
This week, we hear from Silver Linings author and founder of Runway Room Cosmetics, Alex Fevola. Alex shares four daughters - Mia, 22, Leni, 15, Lulu, 12, and three-year-old Tobi - with former AFL star and radio host, Brendan Fevola.
With packed lunches to be made and school uniforms readied, the Fevola house is busy most mornings. 
"A typical morning at our place is chaos," Alex tells Mamamia.
"There's a lot to do before we can get out the door. Thankfully, my two middle daughters Leni and Lulu are at the same school so they share uniforms. It can be stressful, but we always get there!"
While Alex works a typical eight-hour day when three-year-old Tobi is at daycare, Brendan works in breakfast radio for Fox FM, meaning he is home most afternoons.
Watch: Our favourite celebrities on parenting. Post continues below. 
"We're a great team. I do the busy morning parenting shift while Brendan does afternoons which includes all the pick-ups and sport drop-offs and he does most of the cooking. I know we are very lucky to have this set-up and spend time with our kids and do work that we love." 
Speaking to Mamamia, Alex admits that their parenting style is pretty relaxed and that her five golden rules for parenting are less about 'rules' and more about providing guidance and emotional support.
1. "Honesty and telling the truth."
"I have a very open and honest relationship with the kids. I want them to talk to me about anything and tell me anything. It's so important to know they are being truthful. 
"Equally, I want to share with them but it's always got to be age appropriate. I don't burden them with things from my past that would upset them as I want them to keep their childlike innocence for as long as possible. 
"However, I have not been honest about Santa Claus!"
Listen to Mamamia's new parenting podcast, Help! I Have A Teenager, below. Post continues after podcast.
2. "To know how lucky they are."
"A sense of gratitude has always been important in our house. Not only about our good health and mobility but also because we have a warm home with food on the table. It sounds really old-fashioned, but I have tried to instil in the kids how lucky they are. Particularly now with what's going on in the world with war and floods.