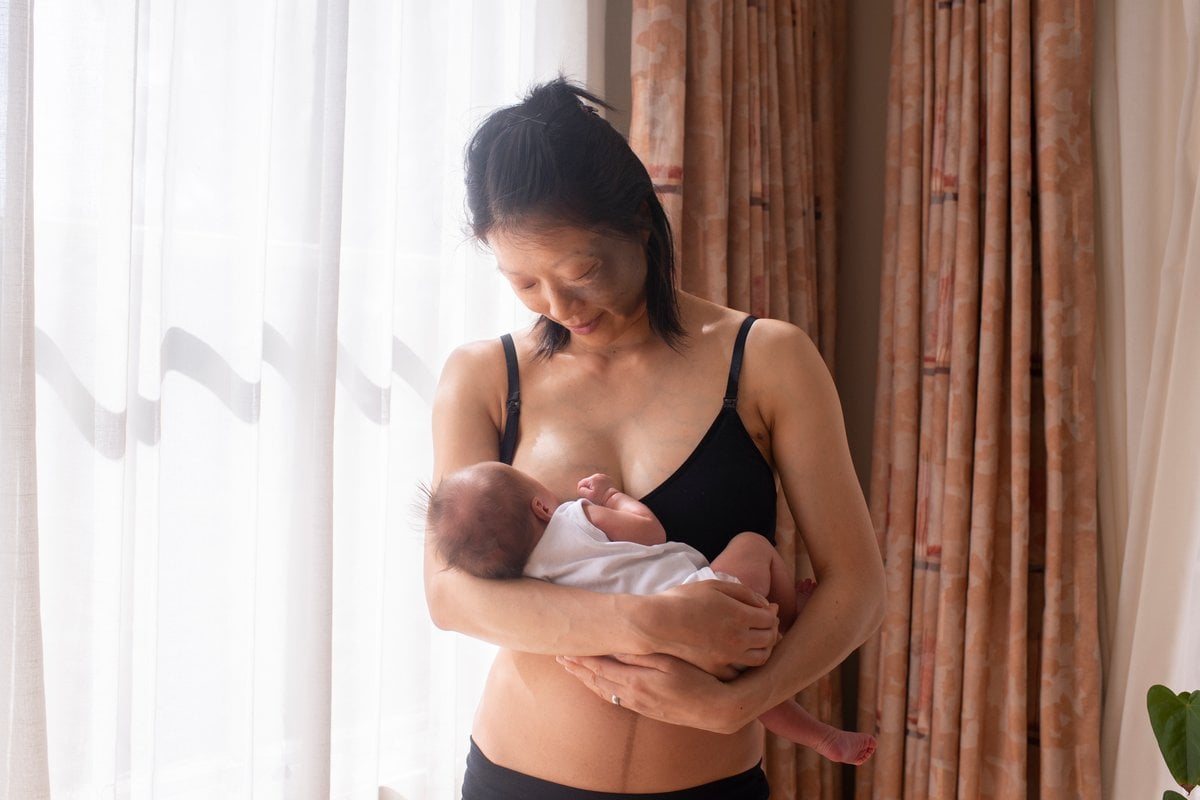 So… you grew a human! High-five, you absolute legend.  
For the bulk of a year, that ridiculously talented and efficient body of yours took a couple of cells and turned them into an actual person. While you were at work or watching Bridgerton or napping, your body was making organs and, like… eyelashes and stuff. 
Take a moment to show your incredible self some gratitude and awe. Aaaand, moment over – welcome to motherhood. Time hits different here. 
The fact is, after you've completed this whole 'growing life' palaver, you're then needing to feed said life.
If you, your body and baby are keen and able to breastfeed, no doubt you'll have some questions. 
Breastfeeding is a time you'll get nutritionally sucked dry (literally and figuratively). Your energy levels (well, what's left of them anyway) take a dive, and your immune system can become weaker than your pelvic floor. This is where taking a suitable daily multivitamin for your body's and your baby's development needs is a great option. 
But what to take? A supplement brand with plenty of somethin' for mum and baby, like Elevit. 
This is where a supplement like Elevit Breastfeeding can be beneficial, as it has a stellar lineup of essential nutrients: lutein and betacarotene (supporting healthy development of baby's brain and eyesight), omega-3 (also supporting baby's brain and eyesight development), B group vitamins and iron (to support mums' energy levels), and vitamin C and zinc (to support mums' immune system).
But, what else is actually helpful to know about breastfeeding? Mamamia reached out to Judy Tripodi, Nurse and Lactation Consultant from Tresillian, to help us out with some of these questions. 
What exactly are B group vitamins and what do they have to do with breastfeeding?
Studies have shown that the first 1,000 days (from sperm-meets-egg day, to your babe's second birthday) are a critically significant window for laying the foundations of good health and nutrition, for your baby's rapid growth and development.
Mums who have been in the motherhood business a while know the position comes with zero sick leave, so something to support your own immune health, and energy levels and even support your breastmilk production is very handy.
This is where B group vitamins (or B-complex) are brilliant for supporting your energy levels, as they work to help your body use the fuel it gets from food. This feels pretty important when required to "adult" on 3 hours of broken sleep. 
Ain't nobody got time for cooking in those early days of motherhood (especially if you're adding breastfeeding on top of that mental load, too). So, this is where taking a tailored supplement with essential vitamins and minerals, including B group vitamins, each day to support your nutrition can feel like the self-care metaphor of putting your own oxygen mask on first. 
I'm breastfeeding and ravenous… that's pretty normal, right?
Absolutely! 
Judy says breastfeeding parents really need to look after themselves by aiming for "a well-balanced nutritious diet" because as it turns out, for someone who's breastfeeding, it's actually the most nutritionally demanding time in their life.