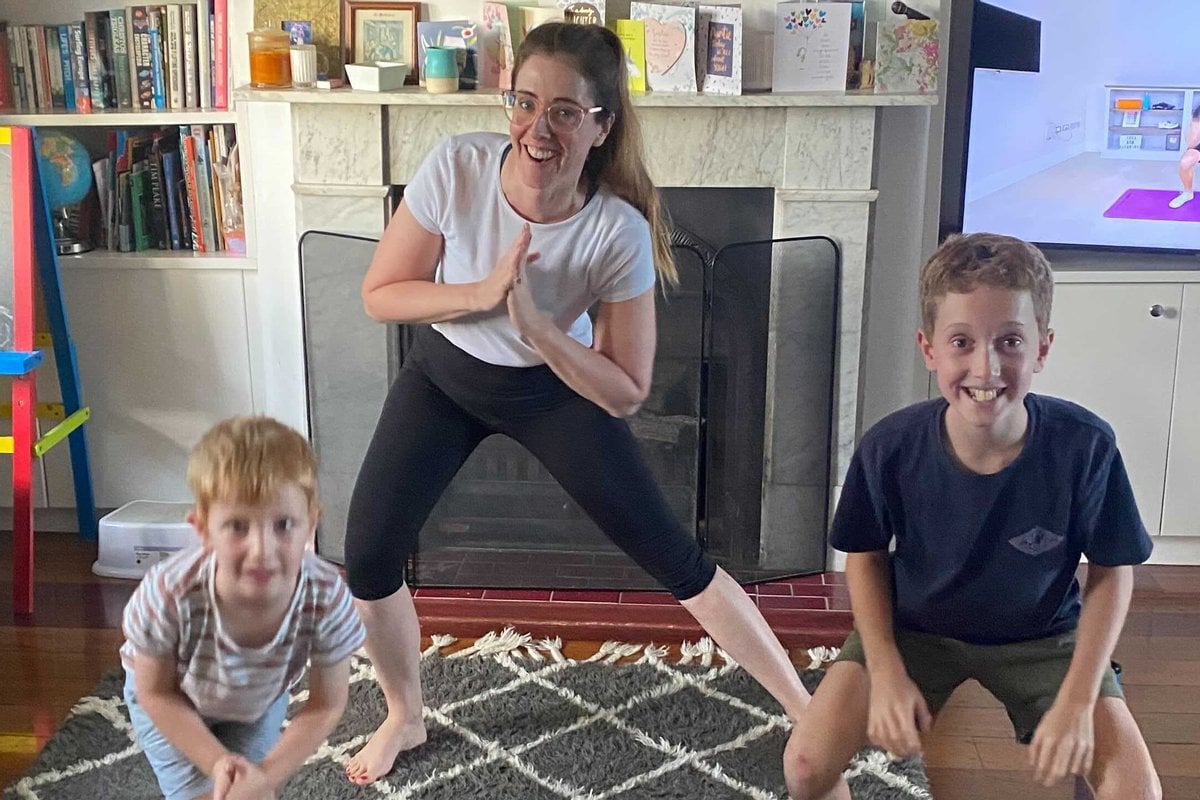 At the start of the pandemic, when we were all stuck at home, I suggested an online family workout. With the local parks closed, we had to get creative with our exercise - and walking around the block just wasn't cutting it.
My boys love their screen time as much as the next kid, but like a pair of overactive Kelpies, they also need a lot of running around. 
Pre-pandemic, my son Toby was playing a bunch of team sports, while my younger son Leo, who was only three in 2020, loved climbing and playing at the local park.
Watch: The horoscopes working out. Post continues below.
When the pandemic took those options away, we had to make do with what we had at home. 
Since then, online family workouts have become a regular staple in our household.
I won't pretend it's always a total pleasure (it isn't), but we laugh (mostly at my terrible push-ups) and there's always a healthy dose of sibling rivalry. 
Here's what I've learned from the last two years of working out at home as a family.
1. It's a great mental and physical health boost.
In March 2020, my anxiety was skyrocketing and apart from the sanctioned daily run or walk, a family workout was great for my moods. Exercise releases endorphins and sometimes, lockdown aside, we all still need an endorphin boost with little kids at home.
Online workouts have continued to play a role in being a proactive way to burn off some of the kids' energy, while being good for my physical and mental health. 
Everyone's a winner!
2. Online workouts are super flexible.
Having younger kids at home means I can't always get out to do the things I want or need to do. 
With online family workouts, I can easily roll out a few exercise mats and choose an online workout for us to do.
While sometimes we opt for a strength type workout, other times we'll opt for a cardio or dance based one. 
Occasionally I insist on yoga and meditation too, but it inevitably ends in too much moaning from the kids so I save those workouts for when they go to bed.