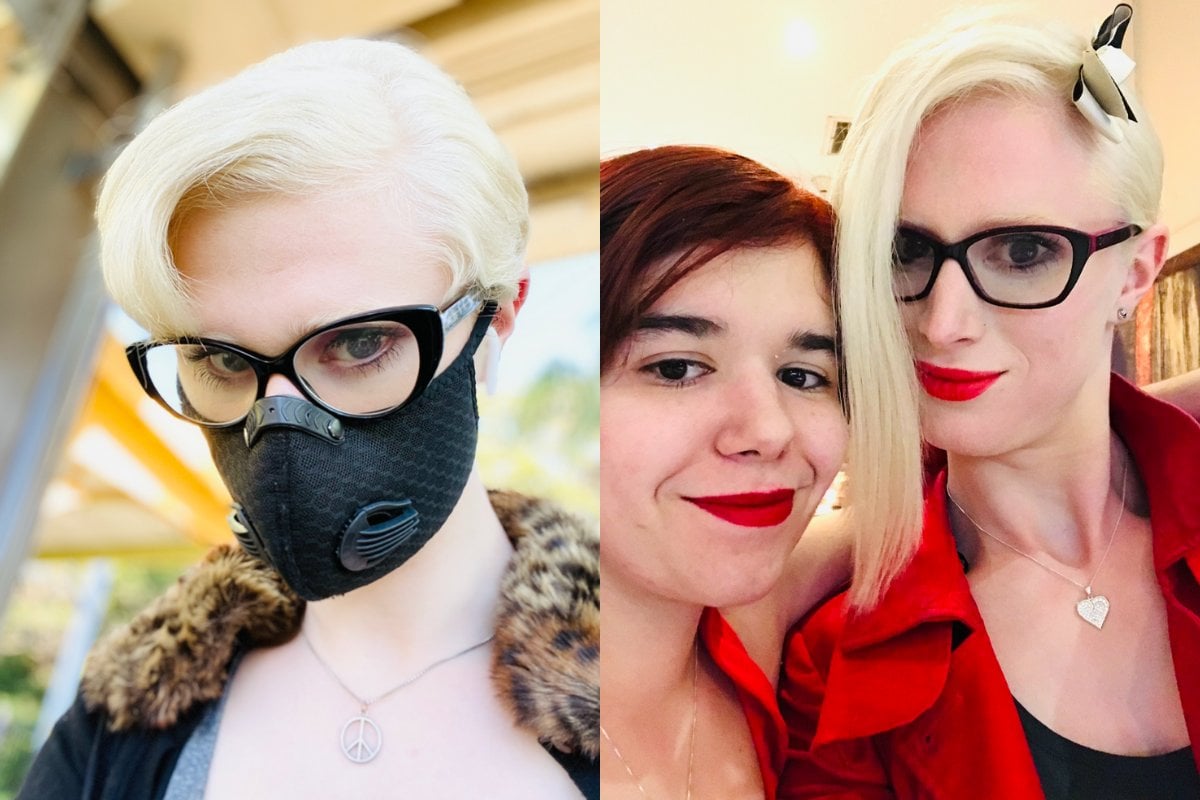 This post discusses sensitive topics and may be triggering for some readers.
The subject of love and dating, as it pertains to transgender women, has always existed in a state of perpetual contradiction.
On one hand, we are hyper-sexualized; we are fetishised and objectified into distorted caricatures. Yet at the same time, the prospect of seriously dating a transgender person seems unfathomable to many people. We are seen as prizes of sorts, usually by men, who are driven either by curiosity or fetish, a kind of a unicorn in the world of casual sex. But when it comes to real love and companionship, dating a trans person, a trans woman especially, is inconceivable to most.
Watch In His Shoes: Transitioning Into Jess. Post continues after video.
Whilst no widely publicised or readily available research exists in Australia on attitudes among the general public towards dating trans people, a Canadian study published in 2018 found that 87.5 per cent of participants outright refused to date someone who was transgender. Of particular note is that this sample included not just heterosexual men and women, but also members of the LGBT community. 
Of the people who would consider dating a trans person, a pattern emerged of "Masculine Privileging", wherein people were more likely to date a masculine trans person and less likely to date a feminine one.
Sometimes, this went so far as lesbian women being willing to date transgender men, but not transgender women. Whilst an imperfect comparison, it's not hard to imagine that those statistics translate fairly accurately to Australia as well, given both countries are relatively similar in terms of culture and LGBT acceptance. So yes, suffice to say living as a trans person, especially a trans woman, shrinks your dating pool in a big way. Suddenly the old mantra "there's always more fish in the sea" doesn't seem so true anymore. With every person I dated, I found myself wondering if this was it for me: If this relationship didn't work out, would there ever be another one?
I feel it's worth pointing out that in some ways when it comes to dating as a trans woman; I am very lucky. Most of the time I pass quite well and that gives me an incredible advantage that not every trans woman enjoys in the world of dating. I have the confidence, developed over many years, to put myself out there, to risk rejection or even violence, over and over. It's hard, really hard, and even a lot of cis-gender (non-trans) people struggle to do it over and over again. I was lucky enough to meet so many amazing people who liked and loved me for me, and when one relationship didn't work out, I was able to pick myself up, move on, and find someone else. Again, so many people, cis and trans alike, struggle with that. I've also been lucky enough to avoid abusive or violent relationships and violent sexual encounters (with rare exceptions). Many cis-women and many, many more trans women, aren't so lucky.