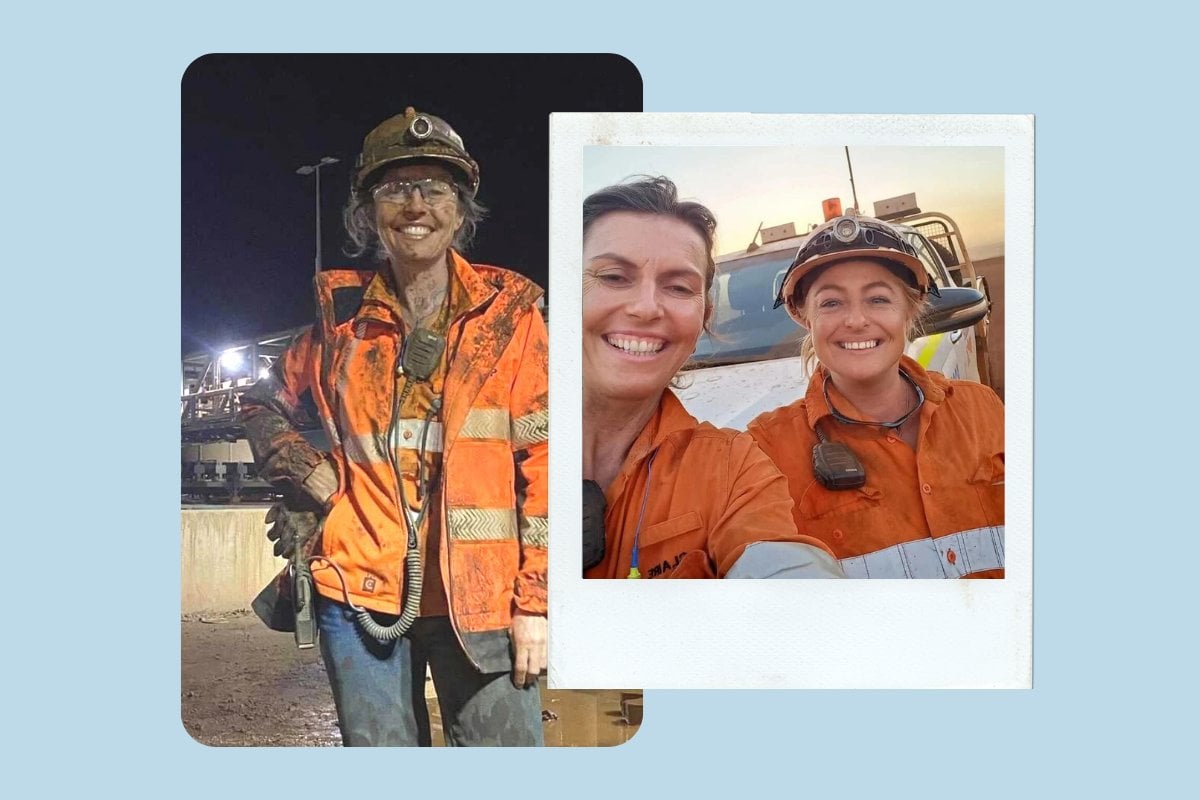 When Claire Scott turned 48, she itched for a lifestyle change.  
From a small country town in the South West of Western Australia, she'd found a perfect work-life balance by serving as a special needs assistant at a local primary school.
While it had been a career she'd found fulfillment in for over 14 years – it had begun to take its toll.
"It was a job I enjoyed – one that had fit perfectly with my number one job of being a mum to three children," Claire shares with Mamamia.
"But I think, ultimately, I had lost job satisfaction, and I was feeling somewhat exhausted."
Jumping into a career in mining may seem like a big leap for many, but for Claire, it just made sense.
"I believe it interesting – or perhaps fateful – how opportunities present themselves in life, and how I actually fell into a career in mining with BHP," she explains to Mamamia. 
Here are the questions Claire often gets as a career-changer, a parent and a woman in mining.
How did you change careers to mining? 
Claire gained insight from two friends before she made the jump and applied for a job with BHP. 
"I asked [my friend] 'what is the chance I could get a job in mining?' and their reply left me slightly gobsmacked but at the same time — very excited!" she tells Mamamia. 
"Their reply was, 'very likely'. BHP was starting a new mine site, called South Flank, and was looking for a diverse and inclusive workforce with the aim to have gender balance by 2025. So they said, 'with your work history and the stage of life you are at, yes: you are a very viable candidate!'"
That year, Claire applied for the job, and received word back quickly that she had scored an interview. 
"You know, even back then in the head office at BHP, I felt welcomed and at ease. I left that office so elated," Claire recalls.
In hindsight, it still surprised her she made it through the selection process – which included several interviews and a site visit before receiving an offer. 
"I think my interviewers were maybe in two minds, or more so concerned that I was actually intent on leaving a permanent full-time position in a country school to pursue some mad desire to go into mining!" she says.
What's the work culture actually like?
There's a preconception many of us have when we think about a job in mining. 
While there's no secret it can be physically demanding — Claire explains the reality of being a FIFO worker was beyond her imagination. 
"I said to my husband, 'I reckon I could do FIFO, not driving trucks, but something,' and if that doesn't show how little I knew about mining at the time — then I don't know what does!" she tells Mamamia.